by Danny Linkous, guest contributor
Danny is the original builder of the replica P47 that I owned about 15 years ago, and we have kept in touch. He's a former USAF F-4 Phantom pilot who moved to the airlines. Recently retired as a 767 Captain, he was still flying big jets as a delivery pilot for JetBlue before the downturn. He and wife Diane fly a Chipmunk from their home on an airpark in North Carolina.

A few weeks ago Danny got an offer he couldn't refuse. He takes up the story:
About two weeks ago, I got a call from a guy who had just bought a 1940 Piper J-3C Cub. The airplane was located at the Conroe, TX airport, just north of Houston. The guy asked if I'd be interested in flying it to his home on an airpark about 15 miles north of where I live. I decided to do it. I mean, a flying job's a flying job, right?
I plotted out a course on ForeFlight: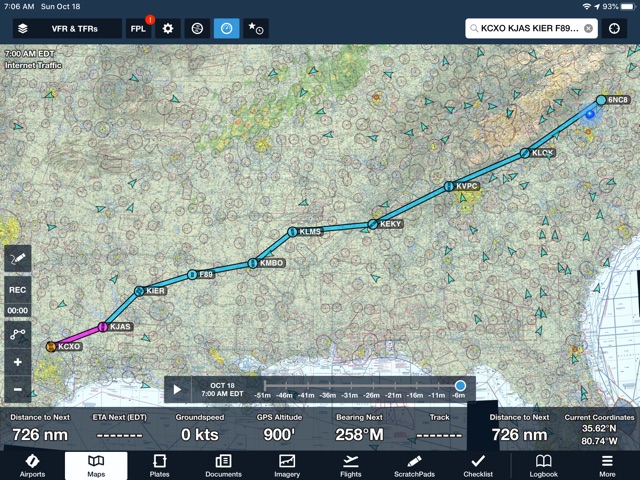 I packed everything I thought I would need, then took an American Airlines flight to Houston on the morning of the 19th. I Uber-ed to the airport in Conroe. I inspected the plane, finding a couple things I was concerned about. A visit by two very friendly mechanics put my mind at ease, so I rolled the airplane out to start it and check out the engine. I quickly rolled it back in the hangar as the weather had other plans…the sky opened up in typical Texas thunderstorm fashion:
About 90 minutes later, the weather had abated and I began my journey. I was hoping to average about 65 knots. Winds are predominantly southwesterly, but for some reason, I had a headwind every day. My average ground speed was about 55 knots. But the weather was absolutely beautiful, so I counted my blessings and kept droning on to the northeast.
I was only able to fly one leg that first day, spending the night in Jasper, TX.  I met some very nice people there (and a couple of nice dogs), including Sully, a 4 month old Black Mouth Cur: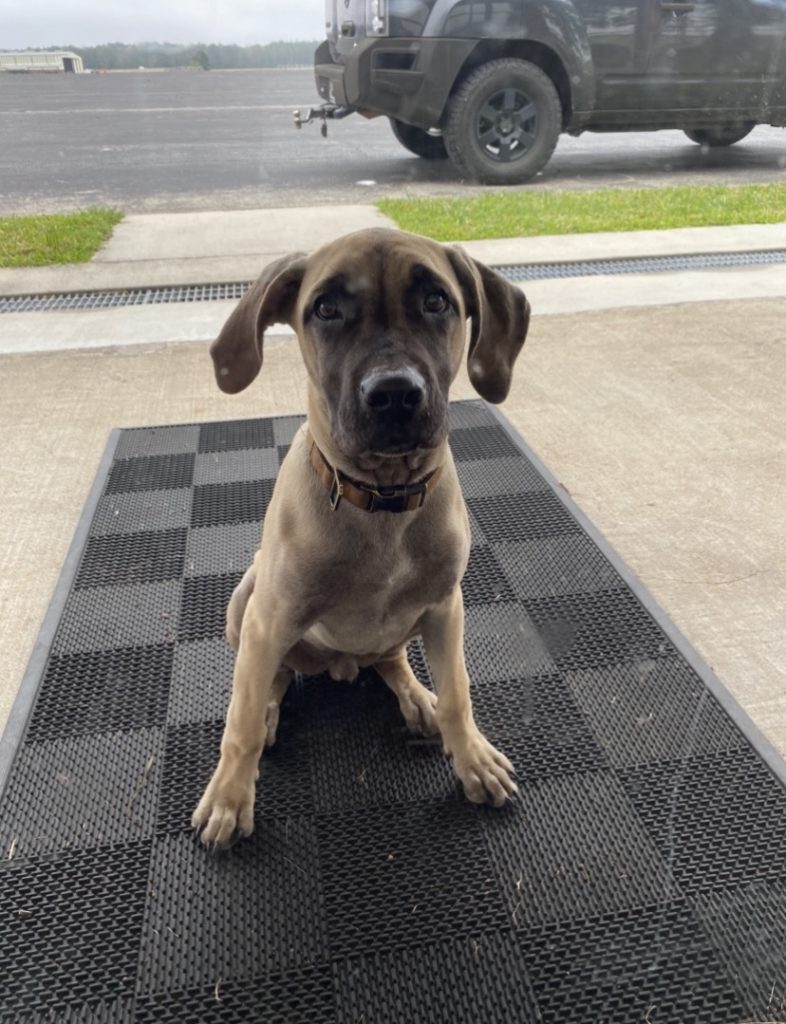 Departure was delayed on day two due to fog. After it burned off, I launched and flew three legs, winding up in Jackson, Mississippi for the night.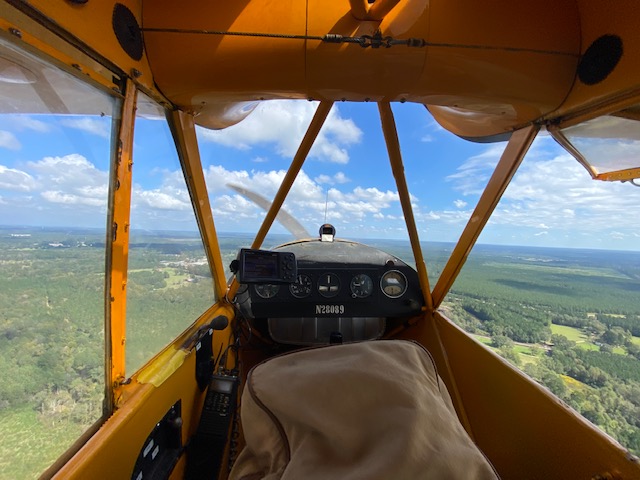 I crossed the Mississippi River at Vicksburg, Mississippi: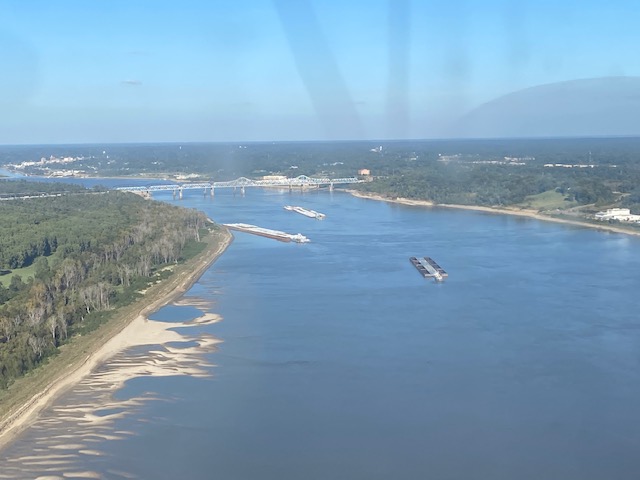 Day three, I was able to fly four legs. The weather remained beautiful. The headwinds remained consistent. But the flatlands I had been flying over were behind me and mountains, beautiful mountains, were now on the route.
I spent the last night of the trip in Cartersville, GA, just north of Atlanta. My goal was to fly to Toccoa, GA leaving early the next morning. I got to the airport before sunrise and prepared for what I hoped was the last day of the journey: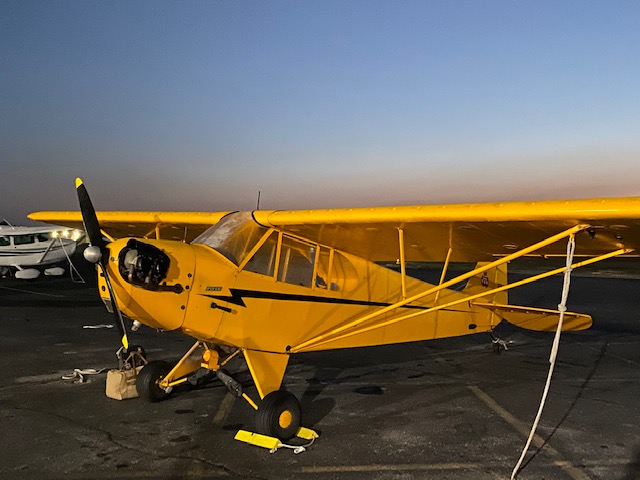 My original routing had to be modified because it was going to take me two+ hours to fly some of those longer legs (130 miles) with the ground speed I was getting. Toccoa weather was good, so I launched to find my groundspeed was 45 knots and the ridges were obscured. After flying about 20 miles, I diverted into Cherokee airport and waited for conditions to improve.
After about a 90 minute delay, I took off again and was happy to see that my ground speed was now about 50-52 knots (I never thought I'd be happy about 52 knots of ground speed!). A couple of fuel stops later and I delivered the airplane to its owner at Marchmont Airpark in Advance, NC. His house is the last one on the right side of the runway: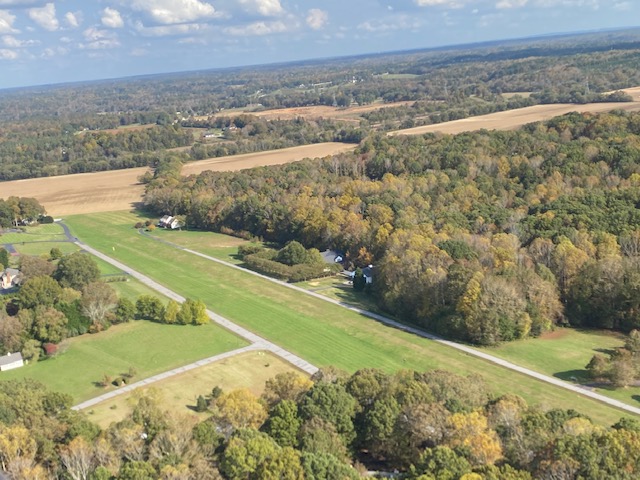 It's kind of ironic that about two weeks before the Cub trip I attended a 5-day JetBlue A320 recurrent training class. I was re-qualified as an A320 captain and then put that training to use to fly a Piper Cub half way across the United States! There is no JetBlue flying in my immediate future, unfortunately, but the company wants to keep the delivery group pilots qualified in case things turn around.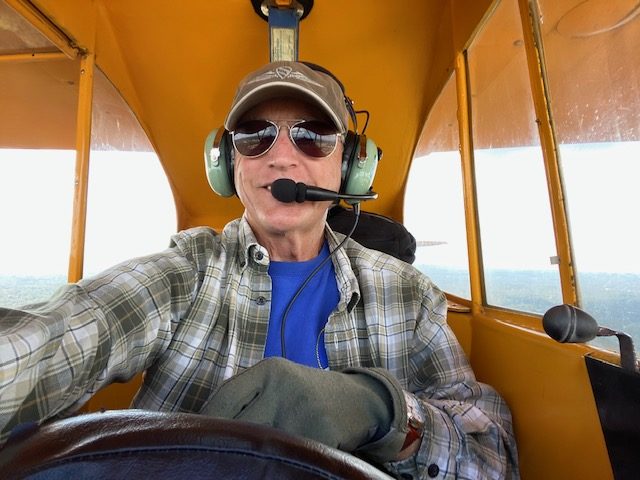 It was quite a little adventure, four days/12 legs/17.8 hours of flight time.
The Cub had a wind-driven alternator mounted between the landing gear struts. It provided power to the cockpit mounted hand-held radio (the antenna mounted over the cockpit), a Garmin 396 GPS (which I didn't use as I had my iPad with Foreflight installed) and a USB port to plug Apple devices into. The electric system worked flawlessly during the whole trip.
There was no starter. Getting underway always included "flicking the screw", as they say in the UK. If anyone was around, I enlisted their help, either "flicking" or manning the mag switch while I "flicked". Several times I was alone, so I either chocked the airplane or tied the tail down and did a solo start.
Actually it was 13 legs, not 12. I forgot to include the early morning divert leg in the total. When I think that I flew only (only?!?) 13 legs and 17.8 hours of flying time, I think it just HAD to have been more than that. There were times during the trip that it certainly FELT like I was doing more than that!
Would I do it again? Well, of course!