With the weather starting to pick up it was time to take the Cub somewhere new. Despite the fact that Balado airfield is just down the road from Perth (literally), we had never flown in. Probably because it's generally a microlight field with some quite short runways. They have been doing a lot of work, putting in new hangars and a new clubhouse…it is a popular destination for flyers from Perth, so it was time to see what all the fuss was about…
The entry in the Pooley's guide states "PPR for first timer users" so I rang up and was told to come on down. For those of you not up to speed with strange aeronautical abbreviations (SAA), the "PPR" stands for "Prior Permission Required" – when you ring up they can let you know of any changes to the published procedures or any relevant stuff like new hangar construction on the old disused runway, that sort of thing.
At the holding point, waiting for landing traffic…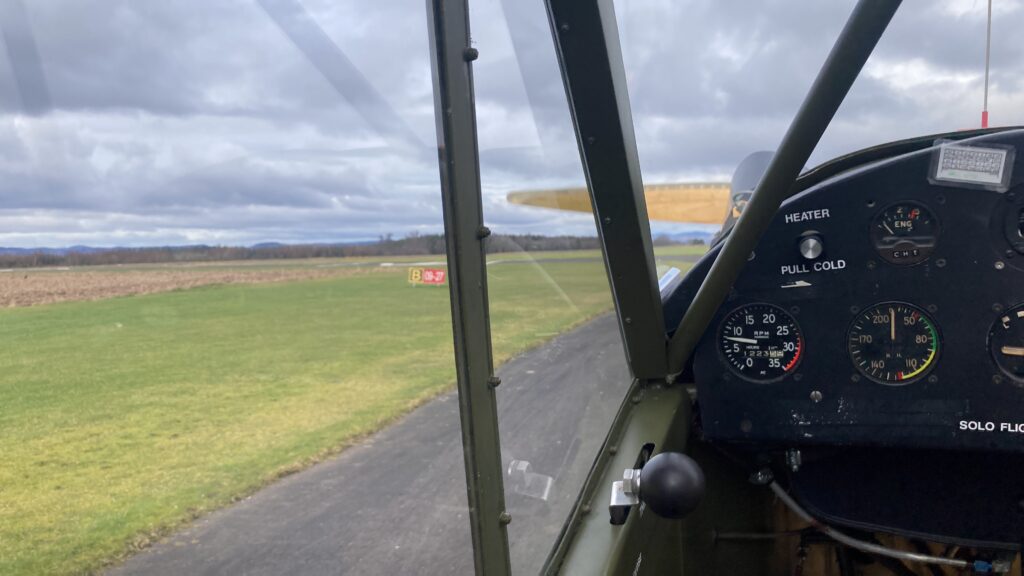 Departing from the downwind leg. Balado is only 14 nautical miles from Perth, so about 14 minutes at Cub speeds: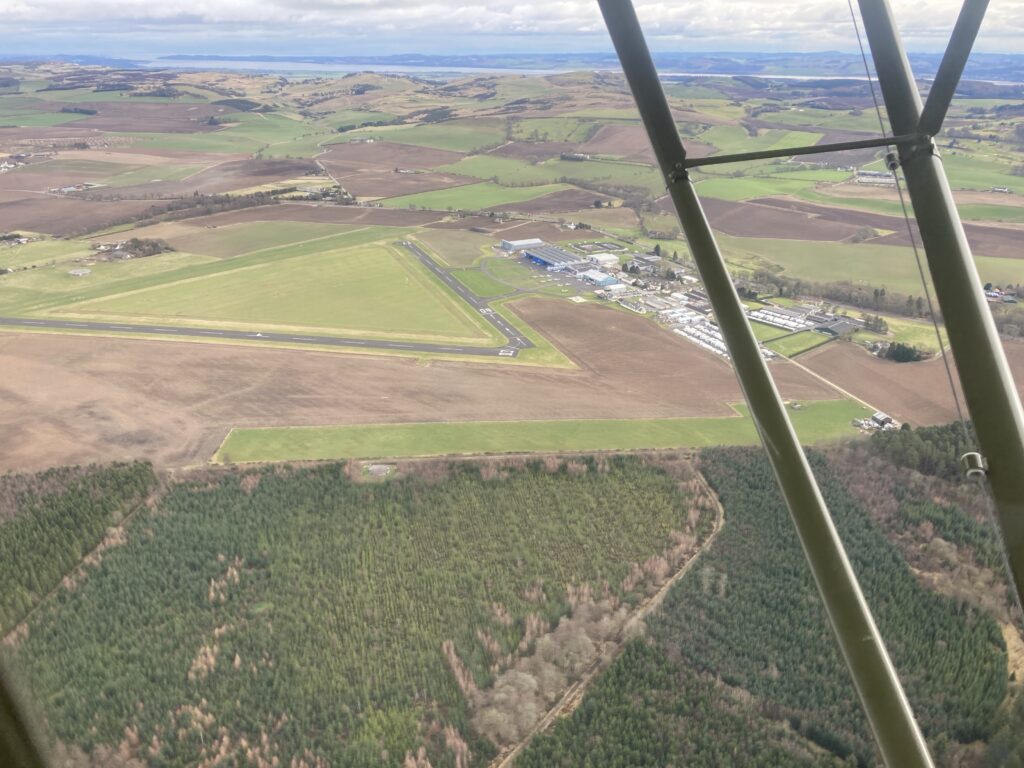 Passing Perth city centre: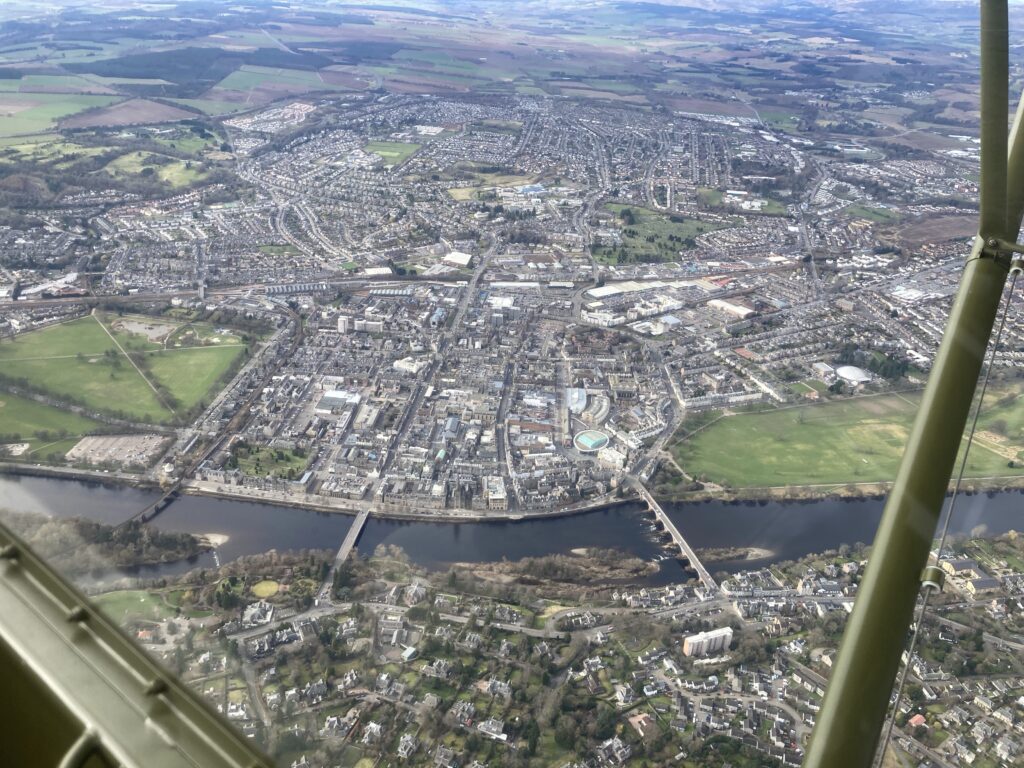 A view of Balado airfield from above, looking more or less south. Easily visible are the outlines of the two disused wartime concrete runways, now covered with chicken sheds. The airfield was known as RAF Balado Bridge, named after the little village visible at the top of the photo. It SHOULD have been called RAF Kinross, but this might have caused confusion with RAF Kinloss, on the Moray coast.
Just visible between the village and the east/west runway is the dome of the former NATO satellite communications groundstation, which closed in 2006. The new airfield is on the green patch closer to the camera, with an aircraft visible at the intersection of the grass runways: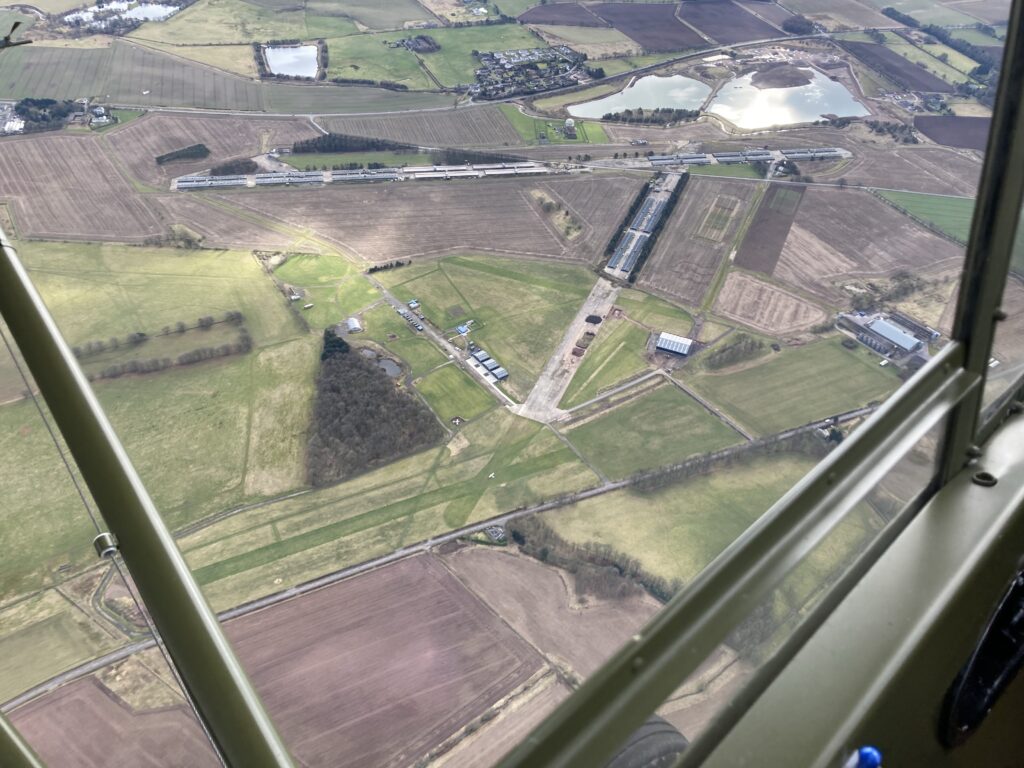 Nice new shiny clubhouse, with the offices of the microlight school, coffee machine and snack shop. All done by contactless payment, even the landing fees: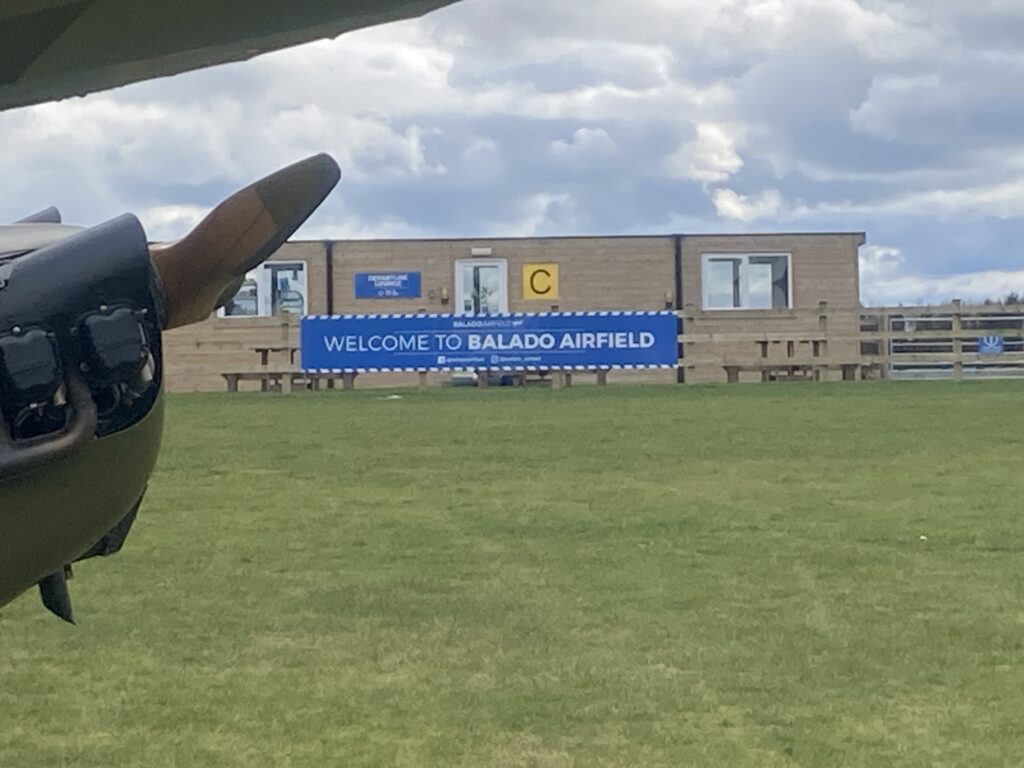 Three of the new hangars. On the overhead shot you can make out the big new hangar as well: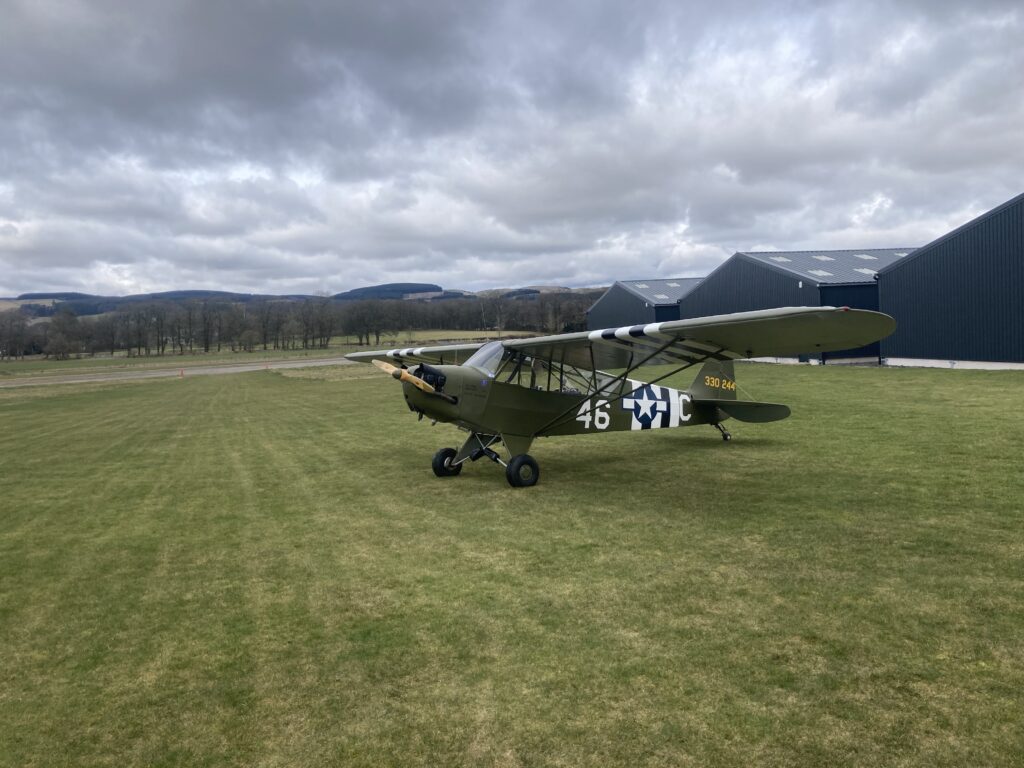 Perth based Cub and Skyranger Nynja (note the registration!) parked up by the clubhouse: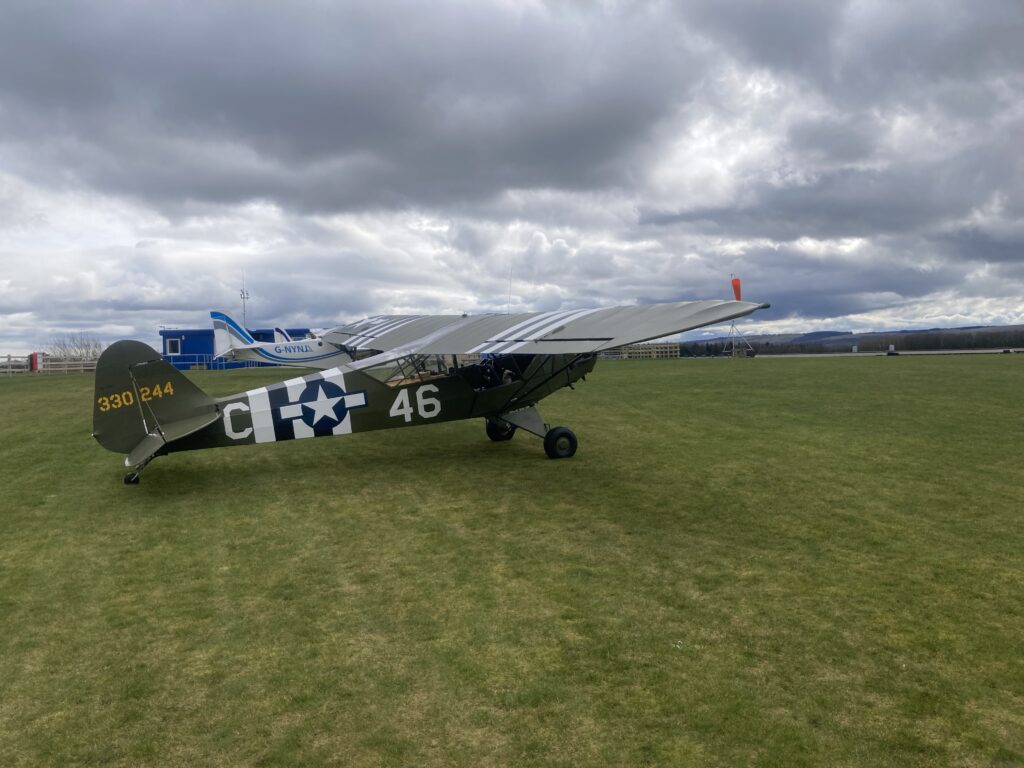 Bob and Susie starting up for more aerial adventures – taking the long way back to Perth via Stirling, Dunblane and Auchterarder: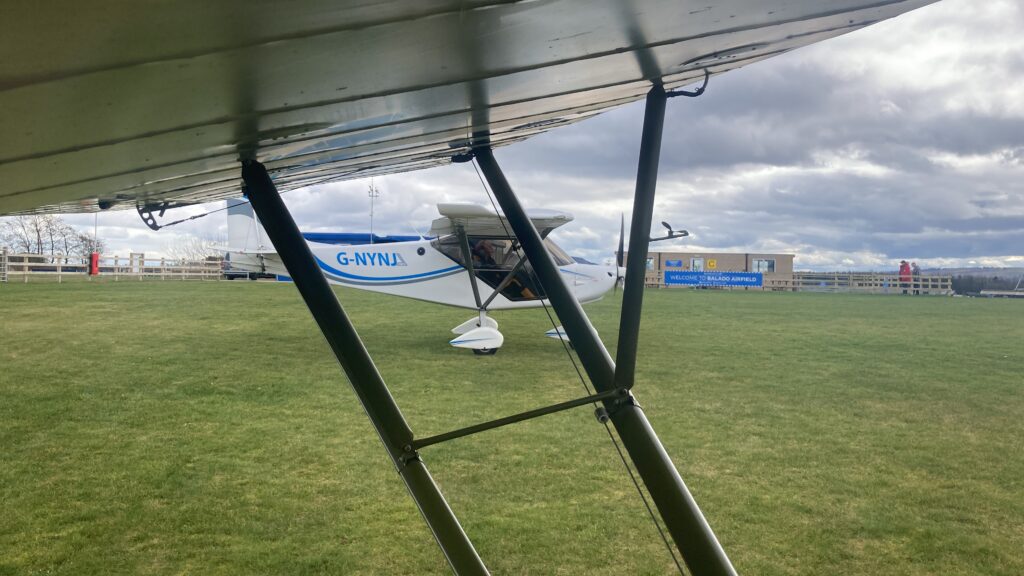 The wind direction had changed slightly, so I followed the Ninja to a different runway than the one I had landed on. I was effectively using them as pathfinders to lead me around the slightly unfamiliar airfield.
On landing back at Perth , instructor Jeremy ran over excitedly and said "I've got you a present, don't go anywhere!" – he returned five minutes later with this… A Commando comic with a Piper Cub on the cover. Firing rockets..!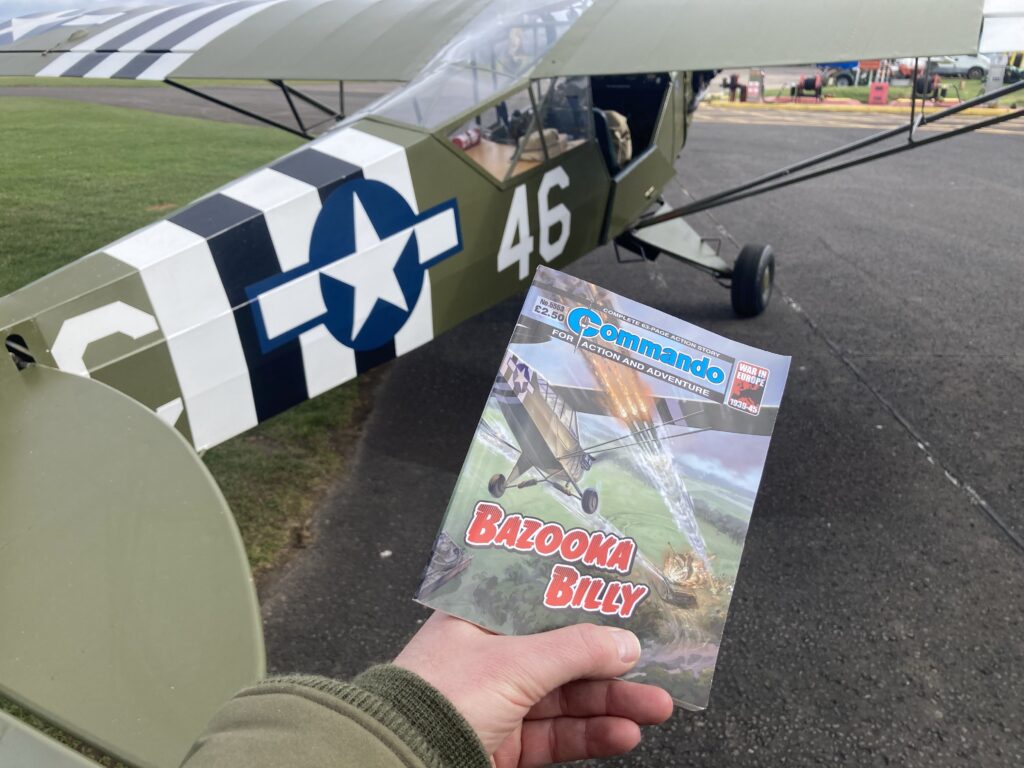 This really did happen in WW2, enterprising liaison pilots strapping weapons to their unarmed aircraft. The most famous was Major Charlie Carpenter, who came to be known as "Bazooka Charlie" and was officially credited with fourteen enemy tanks destroyed. If you have a quick five minutes, here's the story: