Lovely weather at the end of June, and with the coronavirus restrictions starting to ease, time to have a look at various disused military airfields to the northeast of Perth…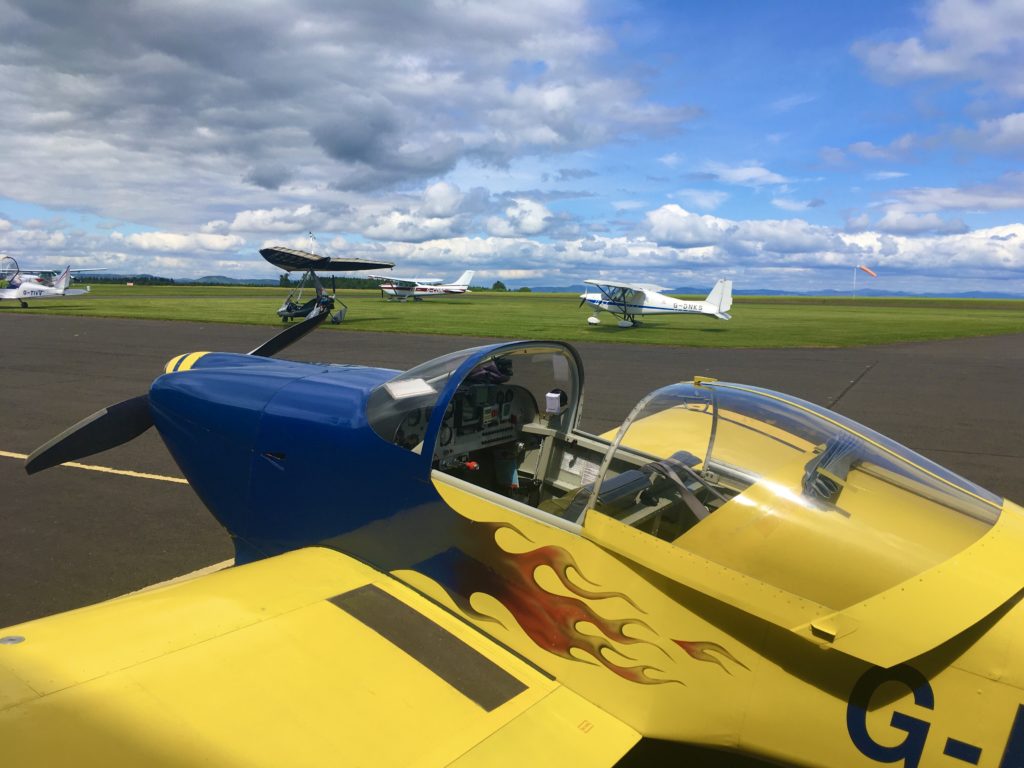 Up the coast to Gourdon and Inverbervie before turning inland to the first target: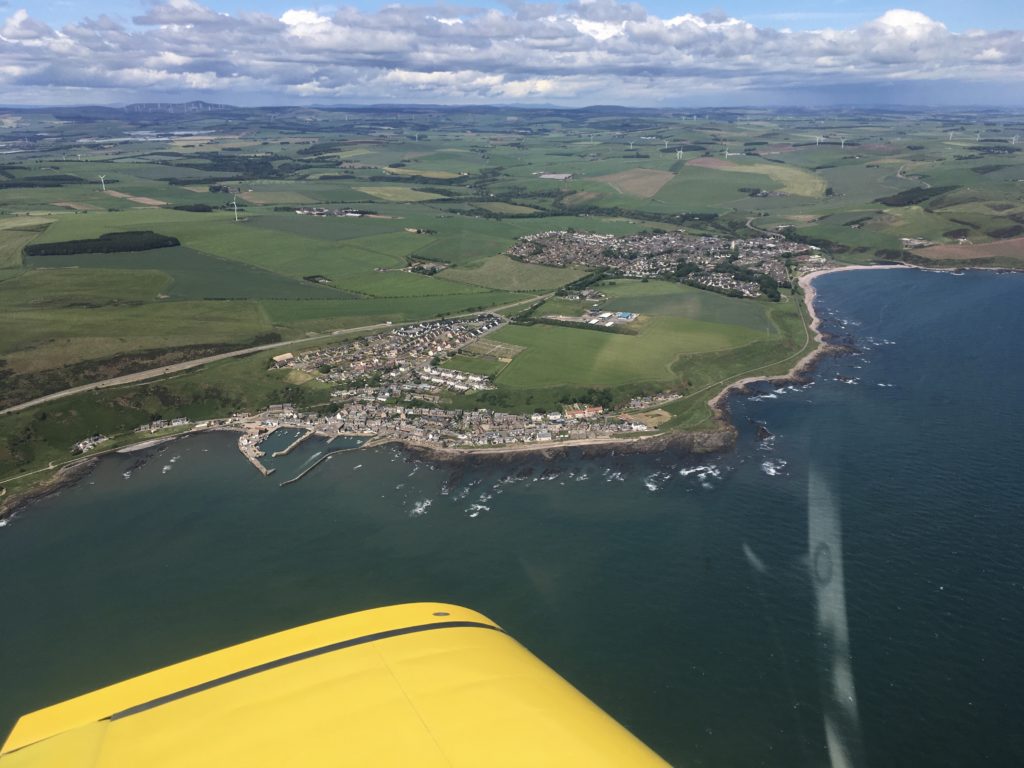 Got a bit sidetracked on the way and did a quick 360 to get this shot: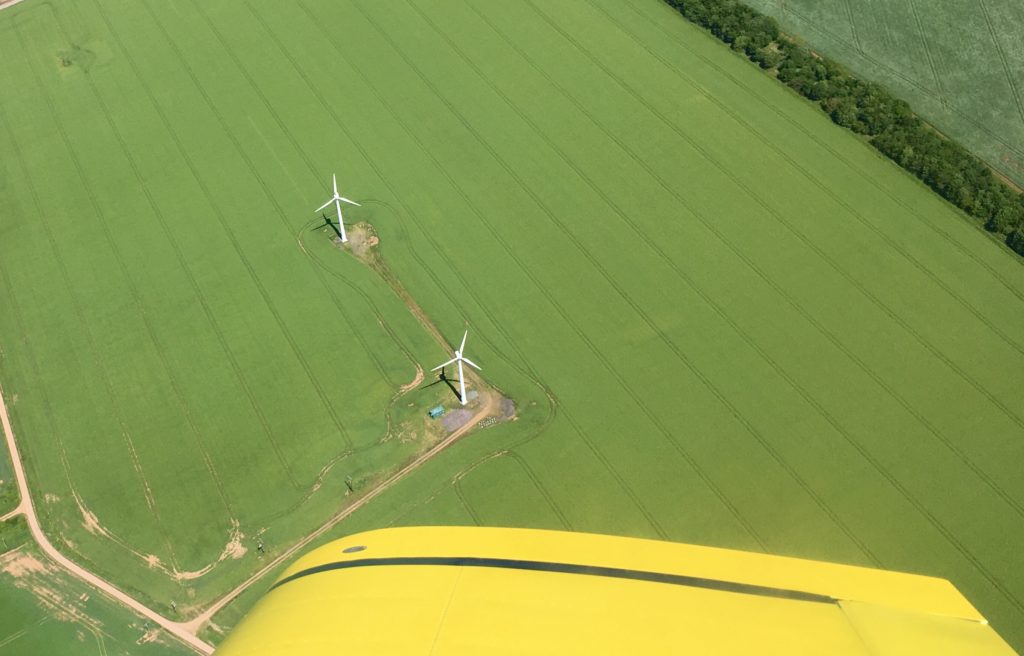 The first airfield, Fordoun, with the old runways and some new hardstanding used as storage, probably for the oil industry up the road in Aberdeen…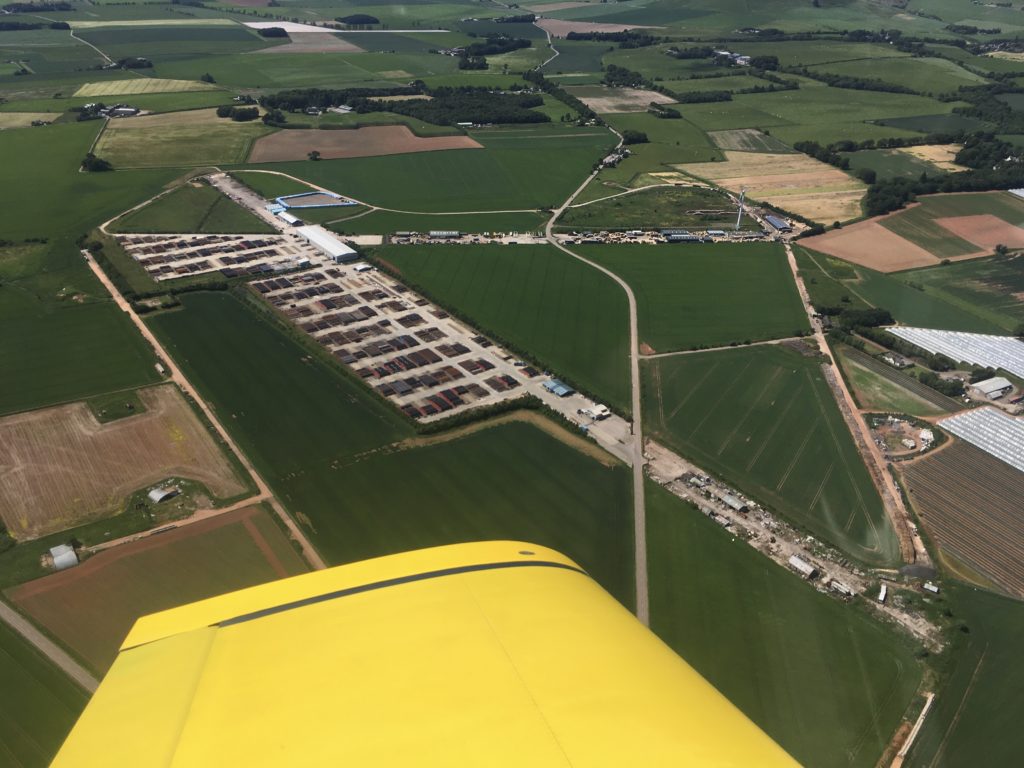 The former RAF Stracathro, now back to farmland but with the perimeter track still evident: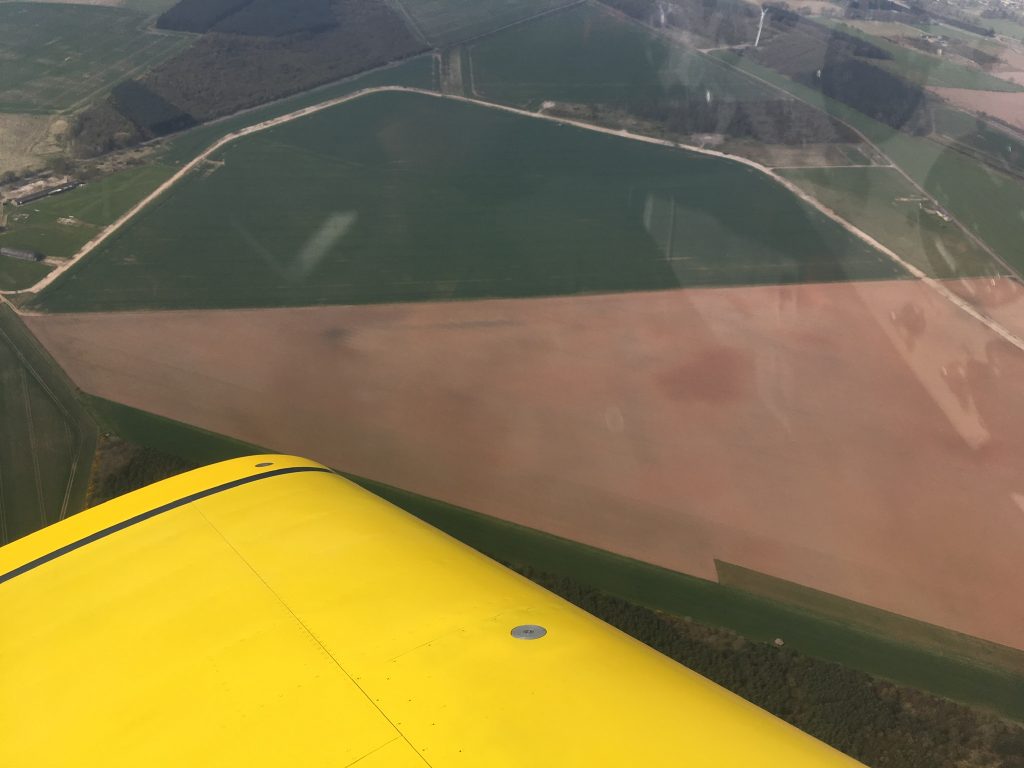 Kinnell, with barns and sheds using the hard runways as ready-made foundations. The portion that looks usable as a runway is often covered in hay bales, back in the 80's there was some parachuting activity from here:
The remains of East Haven, a former naval air station called HMS Peewit. Many moons ago I did a Practise Forced Landing (PFL) down to 500ft here in a Grumman AA5 G-BDCK (yay for logbooks!), and in those days the concrete runways were still visible, now they are long gone: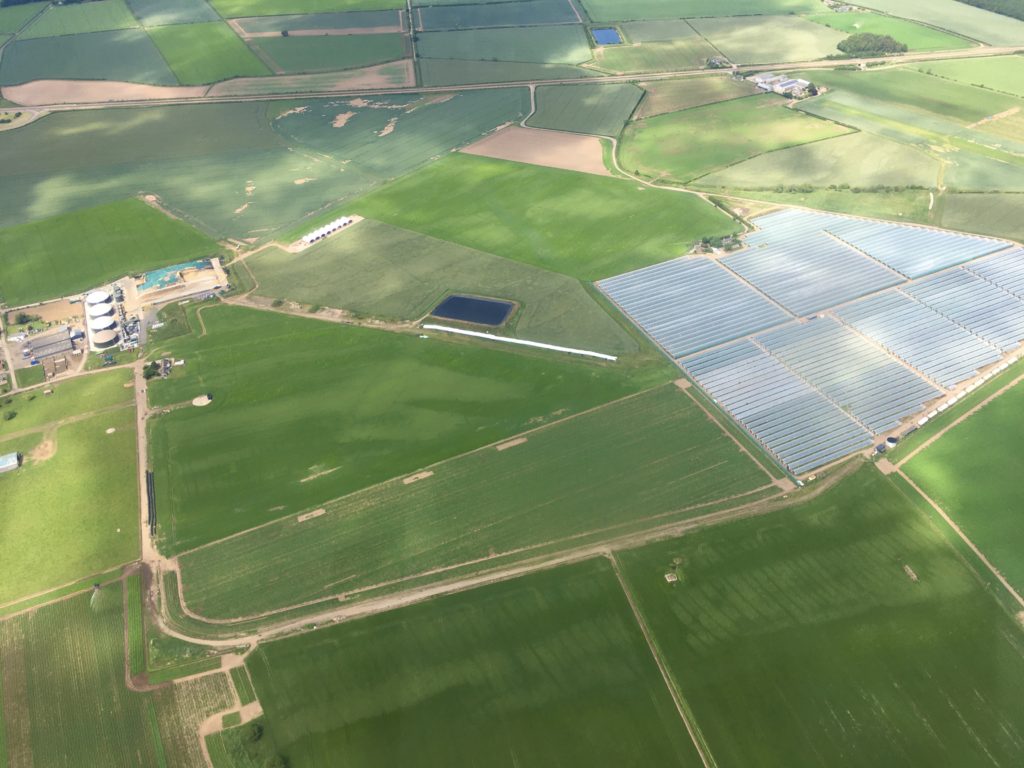 Tealing, to the north of Dundee. Long disused, one of the old runways is covered in chicken sheds and there is a small solar farm, a wind turbine and a power distribution centre (where all the wires go to die)…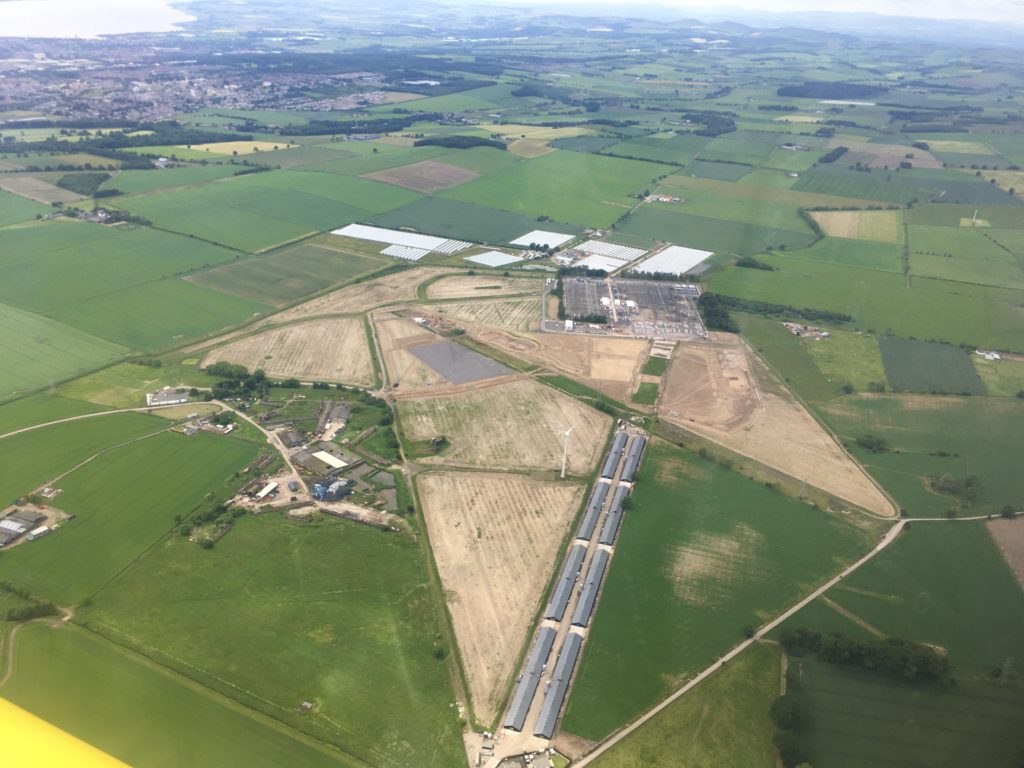 In 1942 Soviet Foriegn Minister Vyacheslav Molotov landed at Tealing on a visit for talks with Winston Churchill. The aircraft was a Petlyakov PE8. Originally known as the TB7, it was the Soviet Union's only four-engined bomber during the war, and was even used to bomb Berlin in August 1941. Only 93 were built.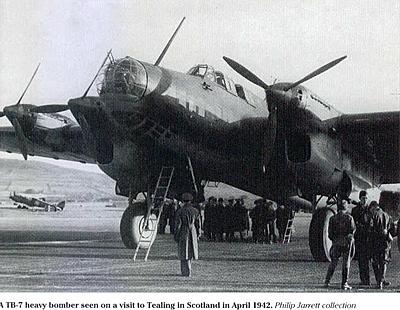 Picture courtesy of: http://www.tealingvillage.org/throughthewar_aerodrome.html
During the winter war of 1939/1940 between Finland and the USSR, the Finns called Russian bombs "Molotov's Bread Baskets" in a disparaging reference to Molotov's propaganda broadcasts. When they came up with the idea of a simple petrol-filled bottle with a burning wick to throw at Russian tanks, they decided that the Soviet Foreign Minister needed a drink to go with his bread baskets, and thus the "Molotov Cocktail" was born. History is great!
Despite having blocked runways and numerous obstructions, the old airfield at Tealing continues to live on in an aeronautical capacity. Dundee airport has an official Visual Reference Point (VRP) at Broughty Ferry Castle but there are several unofficial ones: Piperdam, Monikie Reservoir and Tealing being regularly heard on the radio as aircraft report their positions to Air Traffic Control at Dundee. Today's trainee pilots in their Cessnas share the same skies over Tealing as their wartime counterparts of 56 Operational Training Unit as they got to grips with their Hurricane fighters.
There are several other old airfields dotted about the area including Edzell and Errol, and some relief landing grounds which were just grass fields back in the war and are still grass fields today. There is one about 1500m from our house, but it's just a big field with no trace any more.
If you're ever in Lincolnshire with time on your hands, may I recommend the Lincolnshire Aviation Heritage Centre at East Kirkby? Website at https://www.lincsaviation.co.uk/ – in the museum there is a poem about disused airfields, written by Warrant Officer Walt Scott, who was a Lancaster mid-upper gunner on 630 Squadron. It makes more sense when you know that the code-name for East Kirkby was "Silksheen"…
I lie here still, beside the hill
Abandoned long to nature's will
My buildings down, my people gone,
My only sounds, the wild birds' song.
But my mighty birds will rise no more,
No more I hear the Merlin's roar,
And never now my bosom feels,
The pounding of their giant wheels.
From the ageless hills their voices cast,
Thunderous echoes from the past,
And still in lonely reverie,
Their great dark wings sweep down to me.
After, sorrow, hope and pain,
I shall never know these things again,
Emotions that I came to know,
Of strange young men, so long ago.
Who knows as evening shadows meet,
Are they still with me, a phantom fleet,
And do my ghosts still stride unseen,
Across my face, so wide and green.
And in the future, should structures tall,
Bury me beyond recall,
I shall still remember them,
My metal birds, and long dead men.
Now, weeds grow high, obscure the sky,
Oh remember me when you pass by,
For beneath this tangled leafy screen,
I was your home, your friend, Silksheen.