The "Panic Buying" post on 2nd April concluded with the line:
I think I'm going to wish for a Piper Cub. J3 or L4. Either is fine
Then in "That Was Quick!" on 1 May I told you how my 1:48 scale model L4 Cub had arrived as a present (Thank you Ian). It's now in the throes of construction: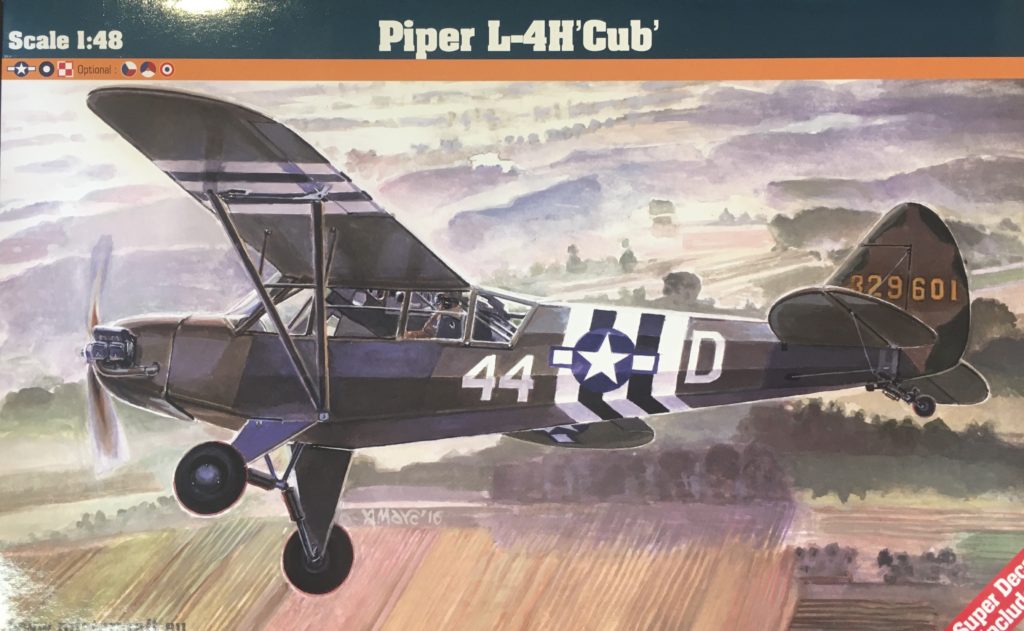 Then on 24 May, in "Inspection Time At Last", I wandered off on a tangent, got distracted and HEY LOOK A BUTTERFLY. Sorry, I wandered off on a tangent, got distracted and mentioned that I had come across a REAL live ex-USAAF World War 2 L4 Cub for sale. Came to the conclusion that it would be cool to own, but three aeroplanes might be a bit too much…and yet, the quote was:
I cannot promise to not go and inspect the Cub when lockdown eases!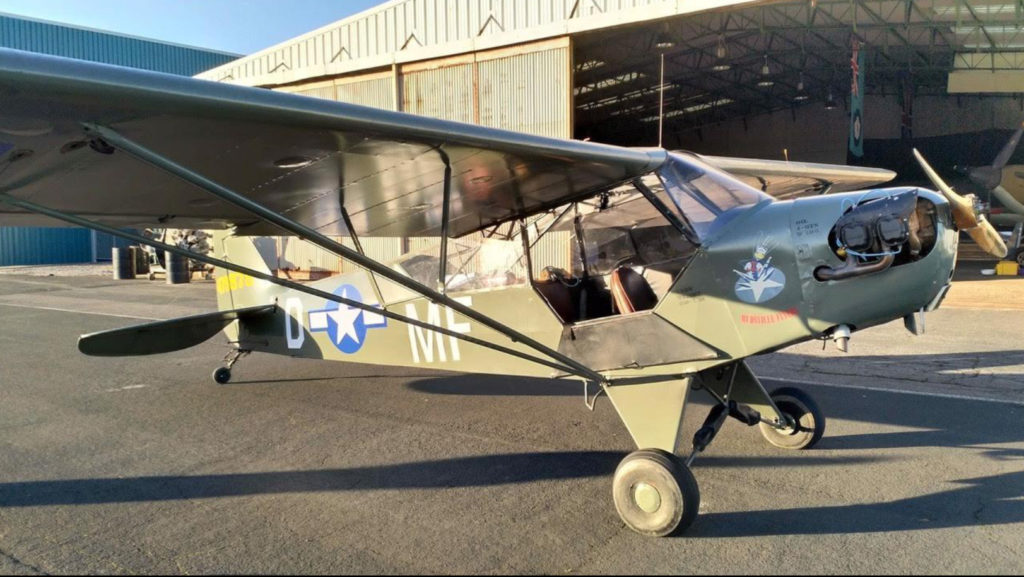 Guess what? Lockdown eased and I didn't go to inspect the aircraft. And then I got an email from the VPAC – Vintage Piper Aircraft Club (I've been a member for years).
The email was to advertise another L4 Cub for sale. So now it might be worth a wee trip to have a look. I got in touch with the owner and found out that the aircraft was based at Leeds East Airport, our old friend formerly known as RAF Church Fenton (See trip report in the Sting at http://www.sigurdmartin.se/2018/05/04/return-2-church-fenton/ ) and with the other L4 being based at Blackpool just over 2 hours away from there a road trip to view both was in order.
I packed away my L4 inspection kit: overalls, face mask, hand sanitiser, inspection mirror on a stalk, notebook and pen, torch, another torch, headtorch, spare batteries, spare pencil and midge net. The midge net was a mistake, I just grabbed the spare battery pouch from my work flying suit pocket and the midge net came along for the ride. All this stuff was packed in the authentic looking replica holdall which we bought at the D-Day Experience museum at "Dead Mans Corner" in St-Côme-du-Mont near Utah Beach. ( https://dday-experience.com/en/ ).
Always knew it would be useful one day…
Road Trip Day One was driving down to a hotel near Selby, ready for an early start the next day, to the old Jet Provost hangar at Church Fenton. First impression was: WOW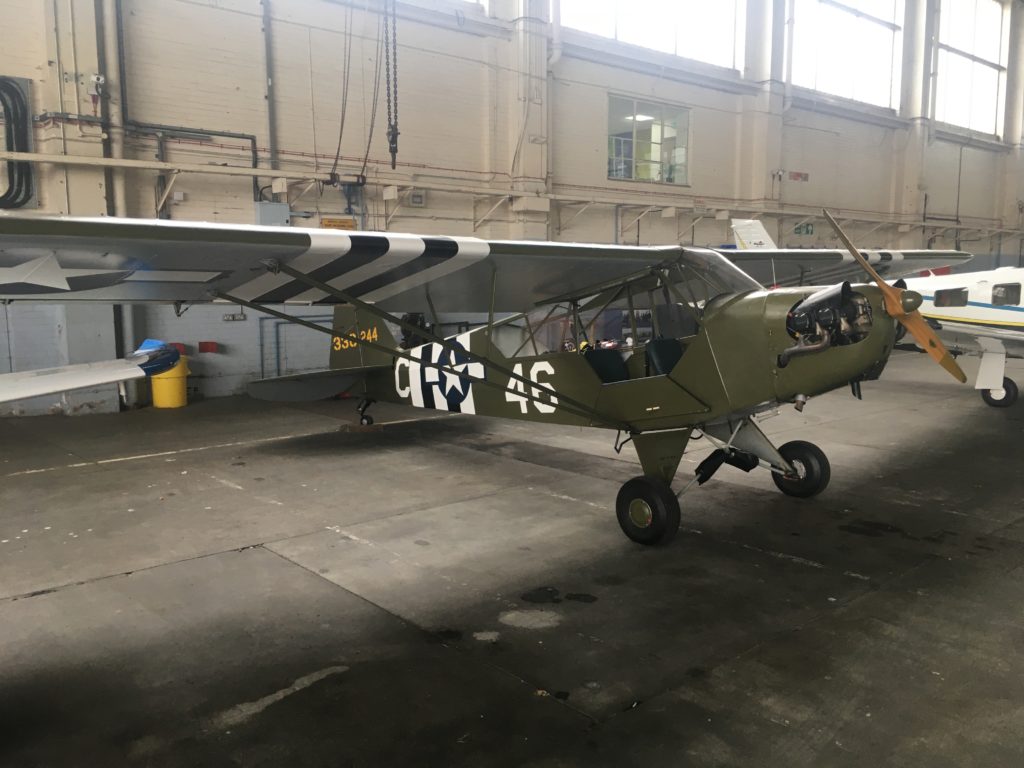 The aircraft is almost museum quality (don't tell the D-Day Experience folk or they will want it). It turns out that the aircraft had a full rebuild in 2013, after being imported from Switzerland. The paintwork, fittings, cables and perspex were almost immaculate: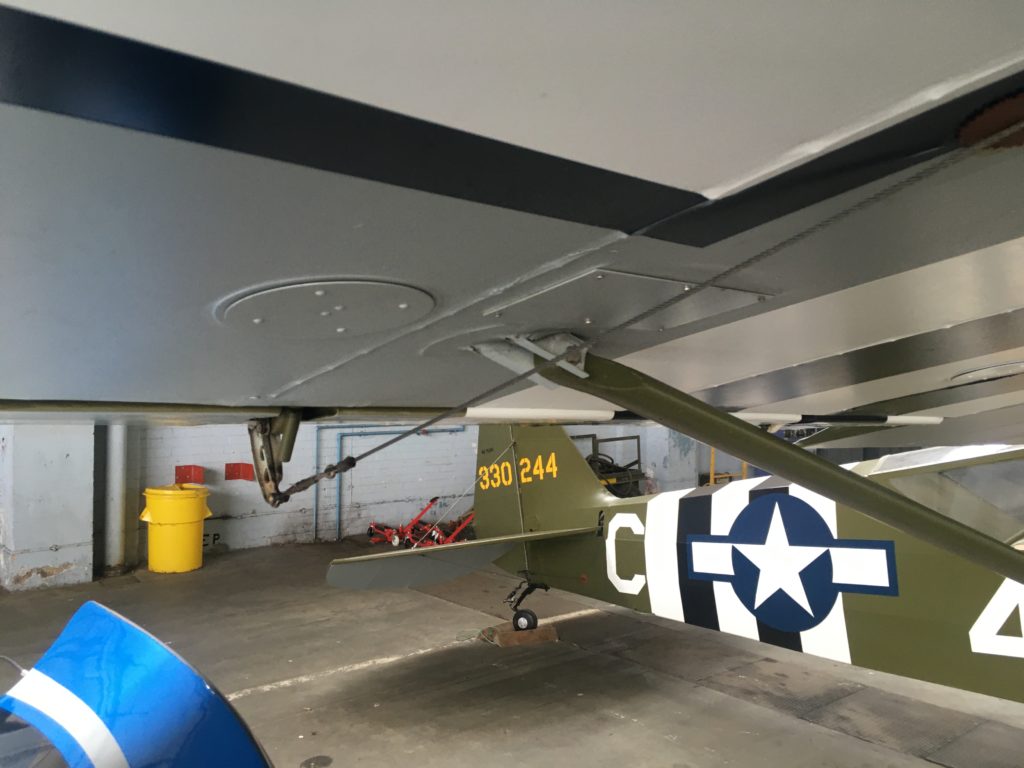 Inside is evidence of a (very non standard) electrical system, powering the lights, radio, transponder and engine starter.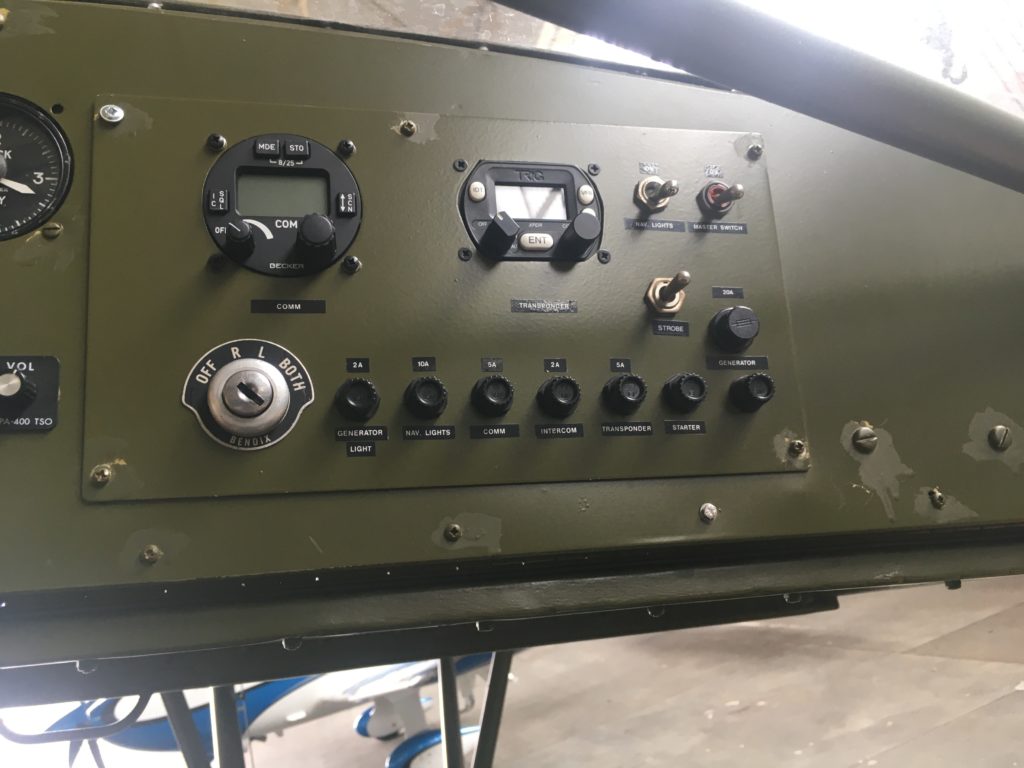 The aircraft has a documented history with 79th Infantry Division of the US Army, and would have come ashore on Utah Beach between 12 and 14 June 1944, about a week after D-Day. It may even have flown over, but in the early days of the Battle of Normandy most came off the beach in "Deuce and a Half" trucks and had to be reassembled in the field, so that's more likely.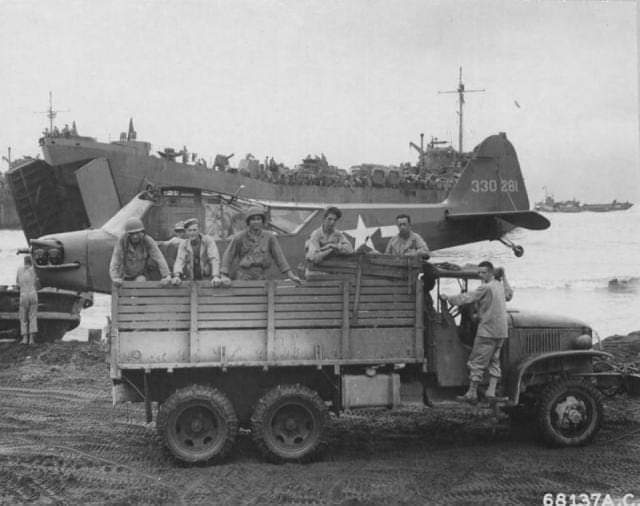 The paint scheme reflects the Normandy period, with the black and white invasion conspicuity markings on the wings and fuselage. I did read once that the hurried application of these stripes only a few days before D-Day exhausted the UK's entire stock of white paint! There are also a couple of modern 79th Inf Div stickers: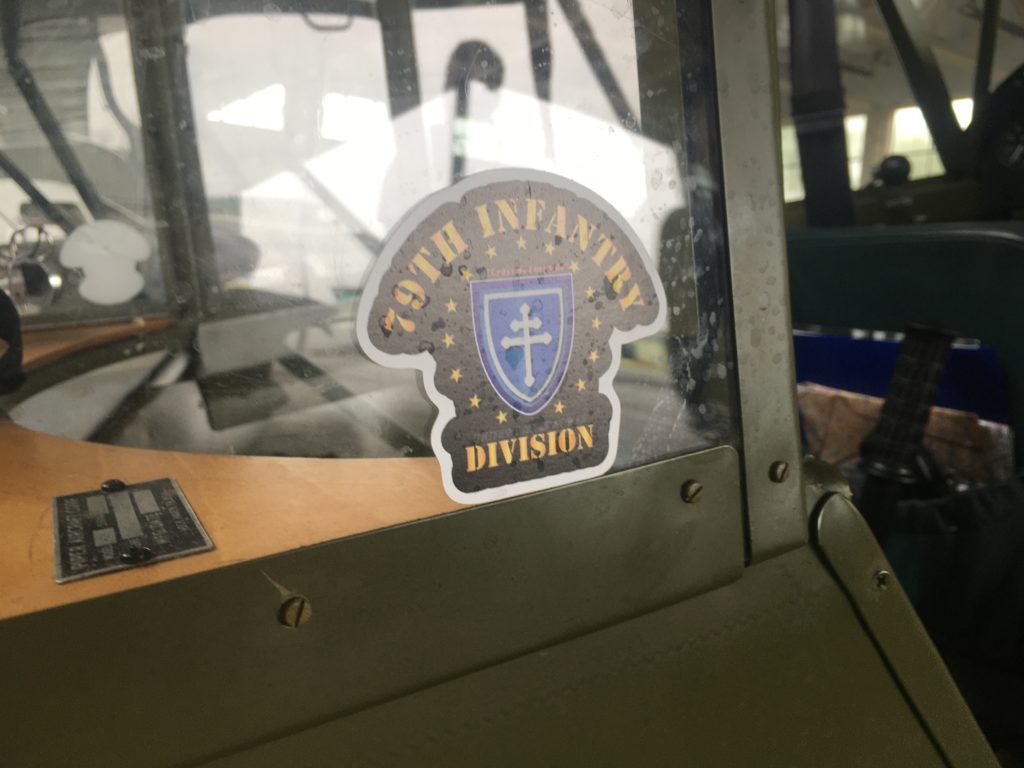 After the war in Europe was over, a large number of these aircraft were handed over to civilian flying clubs and organisations. It was much easier to sell them in Europe rather than boxing them up and shipping them back to the US. This particular example ended up in Switzerland and even operated on skis, performing the first ever landing on a glacier whose name escapes me. There are several Swiss modifications to the aircraft, including the attachment points for the bungee cords which keep the front tips of the skis up in flight. Digging in the front of a ski high up on a mountain glacier is not to be recommended! Another Swiss mod is the line of attachment holes on the cowling for an extra heat muff wrapped round the exhaust, but the best one is the vertical speed indicator.
At some point they put in a VSI (the original didn't have one), and this new one has markings in German! So, a Battle of Normandy veteran with a German instrument marked "Steigt" und "Sinkt" – and not marked in our usual units of feet per minute either, this one is marked in metres per second. Easy enough as 1 metre per second is roughly 200 feet per minute, so the 5 m/s mark is more or less equivalent to 1000fpm.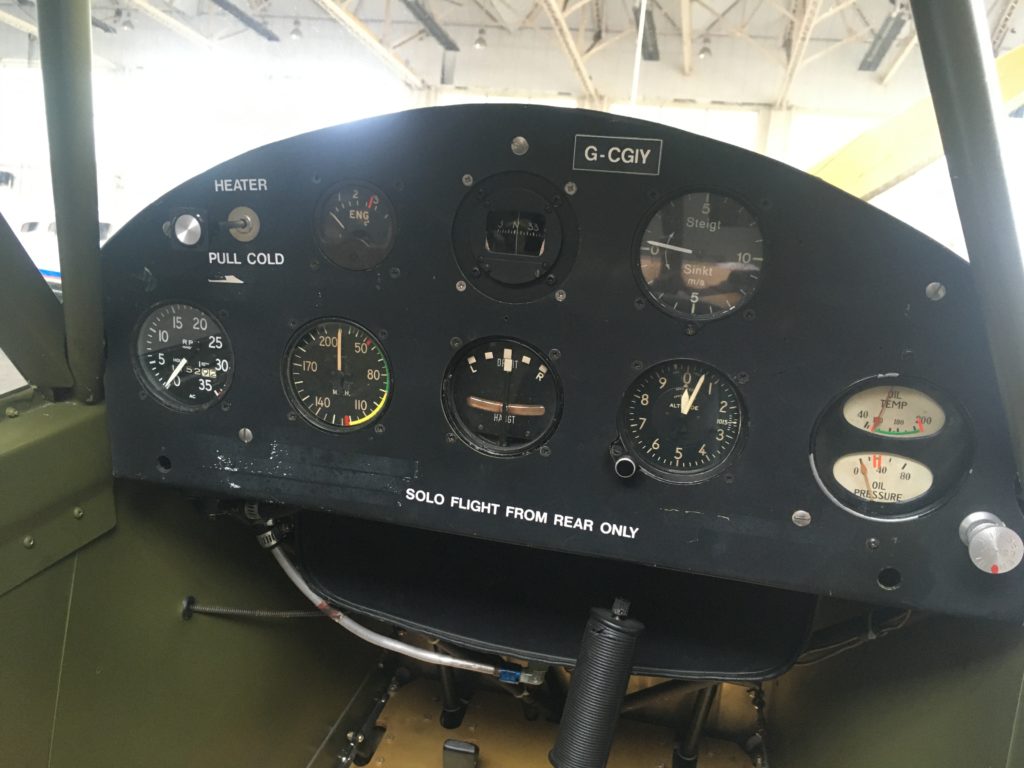 Using metres per second for vertical speed is quite common in the gliding world, so this might point to use as a glider tug. Maybe they used a glider instrument when they decided they wanted a VSI in the aircraft?
After a good poke around, Dick the owner offered to take me up for a quick flight. We pulled the aircraft out onto the apron, where it looked right at home next to the military hangar: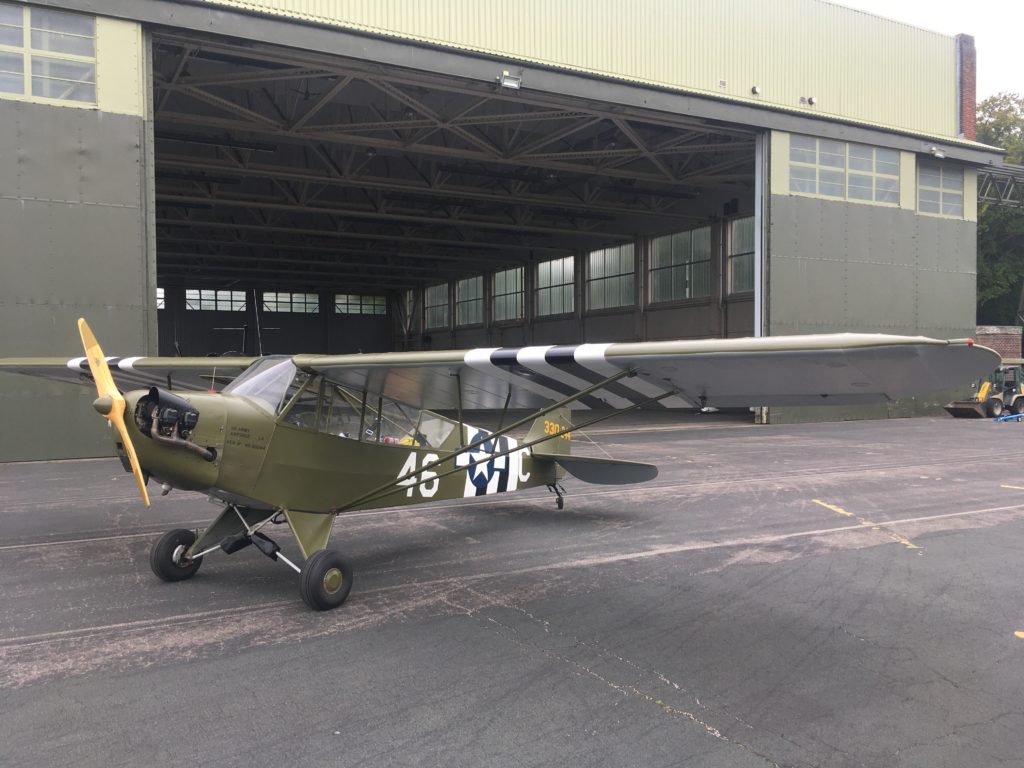 I squeezed into the front seat. For weight and balance considerations the pilot in command sits in the back, so I blocked Dick's view of almost all the instruments. I had a good view on the quite complex fuel gauge. It's basically a float which follows the top of the fuel down, and the wire disappears. No wire left = no fuel left. So simple.
The view was excellent, as you'd expect from a spotter plane designed to see things on the ground: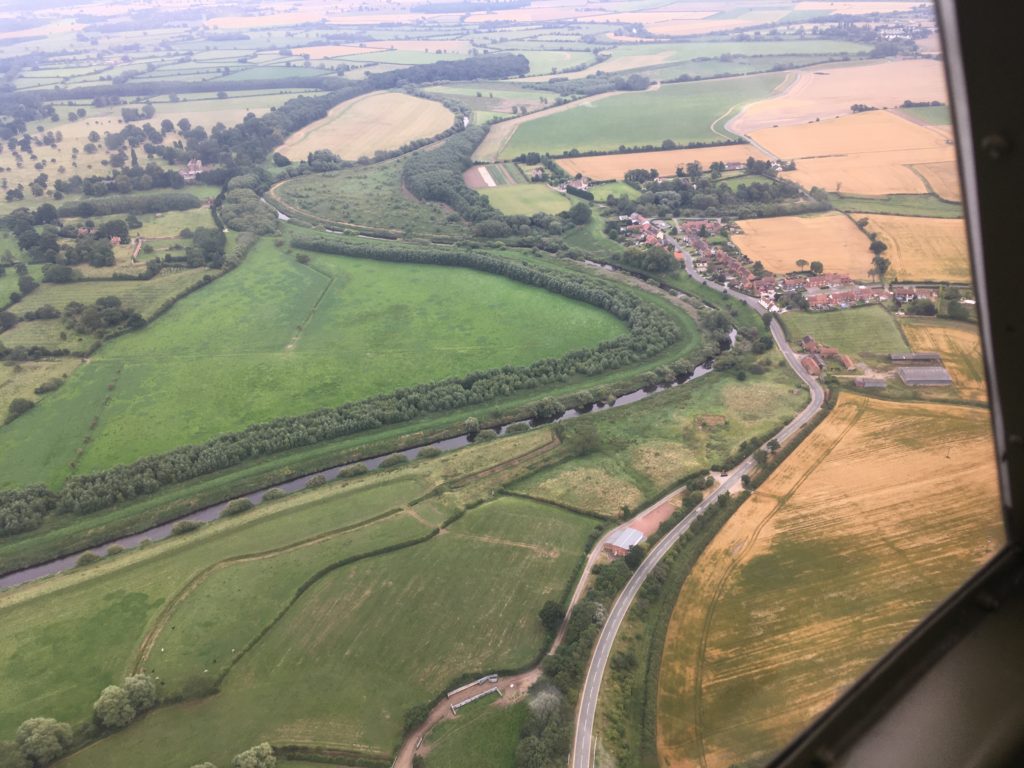 And because of the large areas of perspex the view straight down was spectacular. Piper added lots of extra window area to the L4 compared with the predominantly yellow civilian J3 Cub on which it was based. They called it "extra fenestration" – good to see that big company jargon has been around a lot longer that I thought and is not an invention of our generation!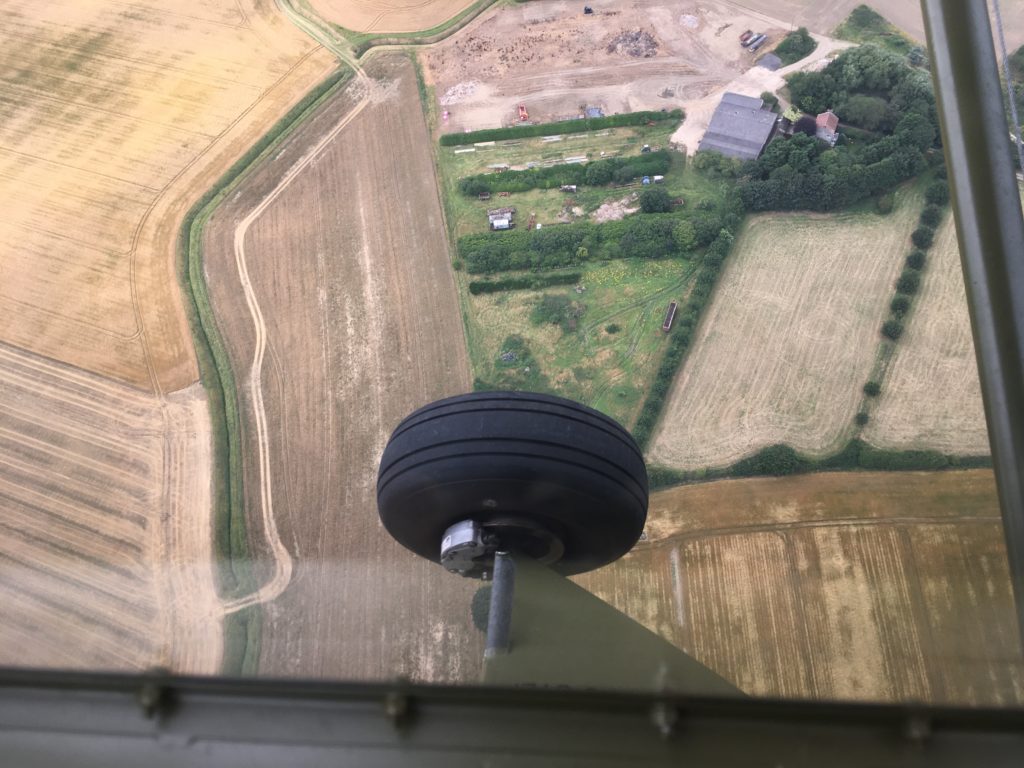 The wheel shot also shows the upgraded brake system, always useful.
After landing it was off to the "Fenton Feeder" for a bacon roll and coffee and to swap war stories. Dick is a former RAF pilot too. I did remember to ask some questions about the aircraft. And then, hit the road over to Chorley in Lancs for my overnight accommodation ready for Blackpool Airport the next day.
The second Cub for sale lives in Hangar 42, which is the home of the Lytham St Annes Spitfire Ground Display Team and their small museum. It looked well worth a visit but I was concentrating on the Cub. No invasion markings on this one, and the code D-MF is made up. It stands for Dunkeswell Mudville Flyers, which was the flying group that previously owned the aircraft. Eagle eyed readers will spot that the Mudville Flyers cartoon logo has gone from the engine cowling. Scroll back up and check the second picture to see the Jiminy Cricket logo. Now check this one:
This L4 is very nice too, but with some "slightly tired" bits compared with the first Cub, which is a little unfair as the first one is only 7 years out of a full rebuild. Both aircraft are airworthy and ready to go, but this one has the original brakes and a 65HP engine as opposed to 90HP in the first one. Also this one has no engine driven electrical system – the radio is driven off a battery which is under the pilots seat and would need recharging every so often.
Most of the time inspecting these aircraft is spent lying on a cold hangar floor: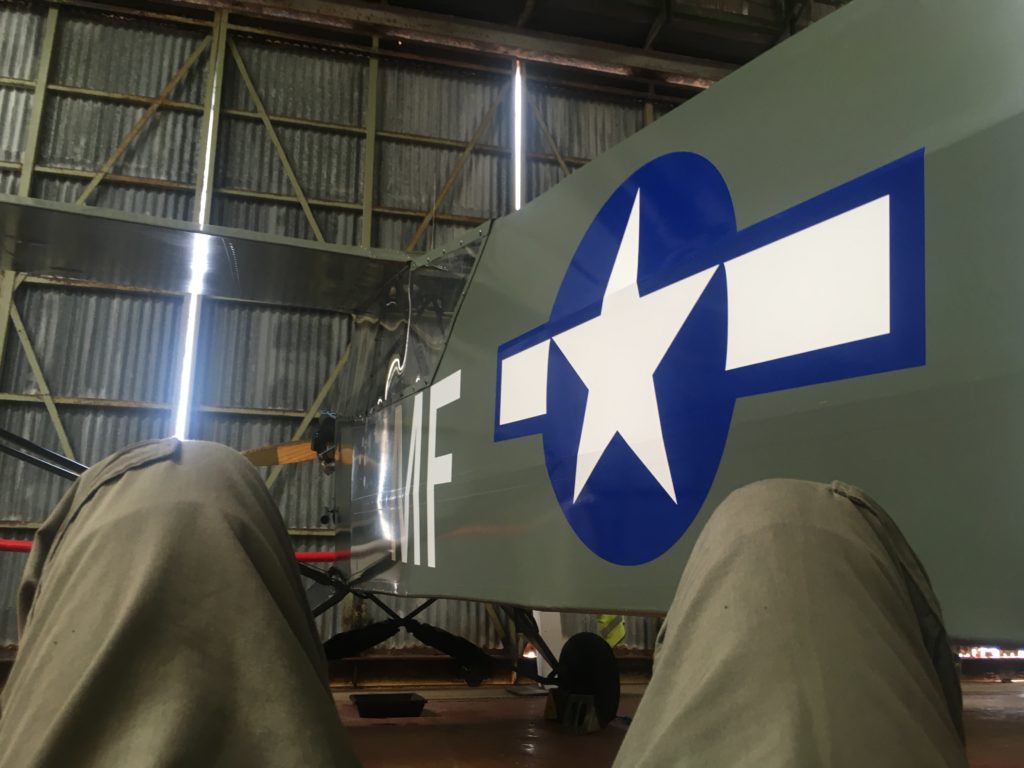 But it's worth a sore back to have a good check of everything. Either Cub would do, but the first one is in very good condition. I'm going back down for a second visit to scrutinise the logbooks, look at a few things I forgot last time and then, if all is in order…